USB sticks ist not USB sticks
The quality of a USB flash drive is not only defined over the used flash memory, which is very important for the performance (read / write speed), but also on the production quality and the used processor.
Flash memory
There are two types of flash memory:
a) 100% tested Flash memory (A-Brand)
These memories are referred to as "A-Brand" and produced by well-known companies such as Toshiba, Samsung, Hynix and Micron and 100% tested for performance and quality. A flash memory that do not field those criteria will not be bought for those companies and also not be sale and offer from us.
USB4YOU-Sticks are always an A-Brand-Quality with appropiate warranty!

b) "Rejects" (B-Brand)
B-fire called memory that do not pass the test criteria 100%, but still enough to be published. Often in "low-budget" USB sticks or MP3 players. This B-Brand are often, but not only imports from Asia and sells low. It can therefore be sold at a price difference of up to -30% USB sticks, but at the expense of quality. These products are quickly broken and not lead to the desired advertising effect!
Fabrication
A USB flash drive consists of a printed circuit board, a processor and flash memory (and a few passive components). For a high quality Sticks is needed first excellent quality materials to build all that systems. Second, a good soldered method that put together on the printed circuit board all the needed component. Look at the picture to get an idea: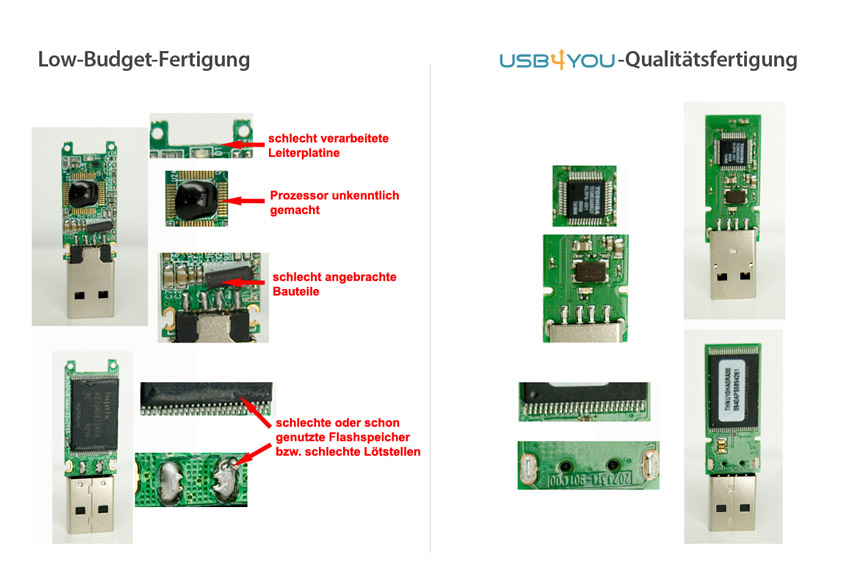 [readon2 url="/index.php/usb-stick-know-how/preisentwicklung"]USB-Stick Prices[/readon2]